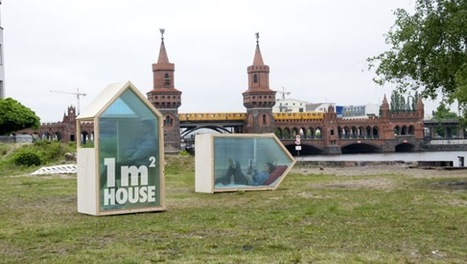 Laos-born, Berlin-bred architect/furniture designer Van Bo Le-Mentzel recently teamed up with artist/psychologist Corinne Rose of the BMW Guggenheim Lab to unveil One-Sqm-House, a DIY shelter that's been dubbed as a "spatial miracle," "a house for everybody," and, most notably, as the "smallest home in the world."
"What I've always been very skeptical of is the fact that our quality of life is so fixed to numbers. On euros, for example, and euros per square meter. When you look for an apartment, for example, the first thing you look at is the location, and then at the numbers—how many rooms, how many square meters? But when you really think about it, the square meters say nothing about the quality of the apartment, about the view from the window, how it smells, if the neighbors are nice. These are all things that you can't put into numbers.
So I said, okay, I want to have my own square meter. I want that no one other than I, myself, can decide what happens with this one square meter of mine in the world. It's the only square meter in the world where I can decide what direction the window looks in, what direction the door opens in, what neighbors I have."